HOME
>
Full design and production teams
Full design and production teams
Today, the fashion and textile industries, which evolve and produce new styles on a daily basis, have ever-greater needs for outstanding buttons and other decorative parts.
Daiya Button, provider of buttons and decorative parts to a variety of manufacturers, maintains full design and production teams in order to enhance product quality and meet customer's changing needs.
Full design and production teams

Reading trends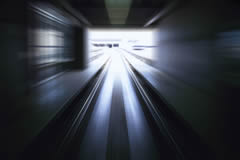 The fashion scene, where new trends are produced each season, could be considered a symbol of this age of abundance.
Year on year, the speed of the change of trends is accelerating, and people are seeking ever more unique, high quality, and high class fashions.
In order to meet rapidly changing consumer needs, we hold two planning meetings a month to plan new products and, further, produce sample books to serve as sources for the latest information.
Then, based on the results of market research and an accurate grasp of fashion trends, we engage in a vigorous exchange of opinions.

Maintaining an international focus to catch the latest trends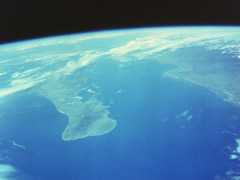 Today, Japanese fashions have become widely sought overseas, but that doesn't mean we can take our eyes off of what's happening in fashion internationally.
In order to spark the imagination of new designs, we travel to the global trend setting destinations of Paris and Milan several times a year.
Then, our staff, who are never content to simply stay abreast with what is happening now, engage in daily research and development in order to get a read on what the next hot things will be.

Producing maximum individuality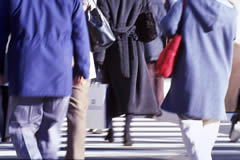 More and more of the people you see coming and going around town are choosing clothing in accordance with their own values and enjoying creating their own style.
In addition to producing buttons assembly line-style, we are also focusing on the design and production of accessories and other items based on market research and trend analysis.
The products we design and develop are produced out of a powerful desire to help people display their individuality as a total fashion accessory coordinator.

Top quality helps make a design more attractive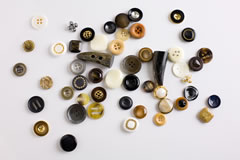 We offer a near infinite variety of buttons. With an abundance of materials such as shell and wood, the addition of gold lines and other touches, the color and design patterns we have are limitless.
The most important thing for us to focus on, however, is product quality. A defect in quality means a product is worthless no matter how great the design may be.
That is why we devote ourselves to quality assurance, engaging in meticulous inspections. Almost all of our products have cleared the strict standards of the Japanese Boken Quality Evaluation Institute .

Proactive acquisition of product knowledge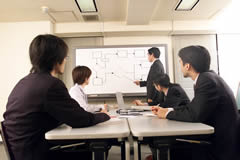 Our aim is for all staff to have accurate product knowledge in order to raise the bar for the entire company. We promote the acquisition of knowledge about our products, regardless of job description, through activities such as inviting lecturers to hold company-wide study meetings.

Daiya Button, our in-house brand

Today, many people have their own highly individual tastes and wish to express their own individuality through fashion.
We launched our own Daiya Button in-house brand out of a desire to be highly aware of the needs of such people.
Under Daiya Button, we offer a selection of high quality, highly diverse buttons, including natural, cute, gorgeous, and basic buttons.
Spring, summer, fall, and winter, Daiya Button buttons will enhance the look of clothing for any fashion scene.

Company warehouse and product gallery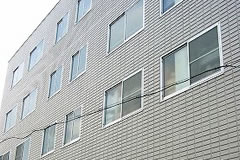 In a time when there is demand for small product volumes, high product diversity, and rapid delivery, inventory control capabilities are put to the test.
We maintain stocks of the abundant variety of products produced at our factories in our own warehouse in Osaka. And we are able to meet customer needs all across Japan.
We also further maintain our warehouse to additionally serve as a product gallery, enabling it to be used effectively for situations such as allowing customers to see products in-person.